What is the Code to Change Program?

The Code to Change program is an extensive 5-month program aimed at women who are looking for new challenges and want to kick-start a career in ICT. It consists of three phases. In the course of our work we are often asked the following question by women pursuing personal growth and professional change: "Where do I start?" The Code to Change program answers that question and paves the way for a smooth start in a new career!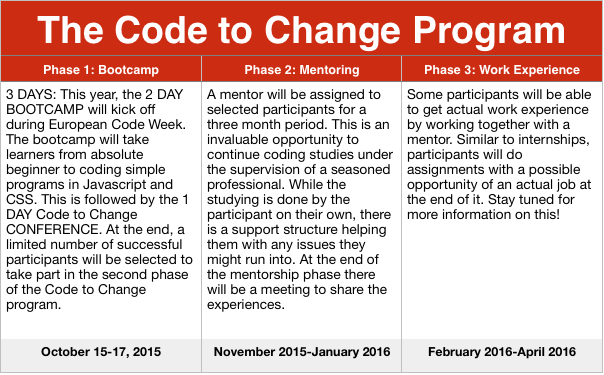 This program is powered by our community of techies and allies who are passionate about teaching digital skills to others to address the problem of shortage, acquisition and retention of females in the IT sector. Having more women in ICT not only helps the new women getting an exciting new career, it also will help retain the women that are already there by making the working environment more inclusive. Most importantly, it will help the ICT sector as a whole, as diversity makes any team greater than the sum of its parts.
Code to Change 22 March 2016 Condensed_screen version