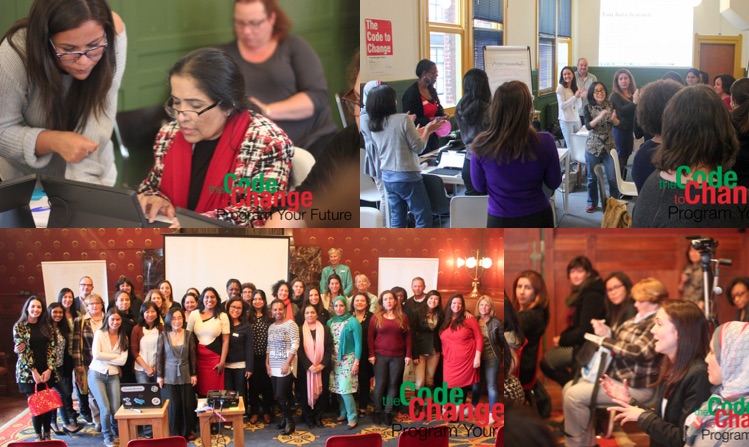 Amsterdam witnessed The Code to Change's inaugural three-day eskills bootcamp and conference in October 2015 during the European Code Week. The event introduced participants to e-skills and different fields of technology industry. This initiative was brought to the public by ChunriChoupaal's leaders and sponsors on a volunteer basis, through the shared belief that women deserve to have their talents developed and to achieve economic independence and that employers deserve to benefit from the full range of skills humanity has to offer. The e-skills bootcamp was led by Mine Ogura, who is also the Work To Equality campaign Lead at ChunriChoupaal. The bootcamp culminated in participants presenting websites of their own creation, using the skills they had learnt. The bootcamp achieved its ambition of demystifying programing, empowering the women present and opening a dialogue between participants and the representatives of the industry. The bootcamp was punctuated by flash-talks from industry professionals, who addressed wider issues of male-dominated workforce, glass-ceilings and also some inherent benefits of being a woman in a man's world.
The organisers featured young and emerging leaders as well as senior leaders to share stories and experiences with the selected 26 mentees throughout the bootcamp.
The Code to Change conference featured talks including "Gender and Genitals in Tech; Getting rid of biased mindsets", "Imposter Syndrome; how to stop feeling like a fraud at work" and "An overview; women in Tech". These were balanced by two very 'brave men' from the IT industry, who offered a frank and helpful male perspective on the issues being discussed in "Mansplaining IT (an alternate view of reality)". The rapidly changing nature of the industry and the structure of our civilisation was addressed in "Big Data". The general atmosphere of empowerment was harnessed and directed by an amazing address "A workshop on Entrepreneurship Thinking", which sought to isolate achievable goals, to value the talents that we already have and to overcome some mental barriers to success.
The Code to Change combined technical training with industry know-how. By addressing psychological and practical barriers, and reiterating a message of hope, these wonderful men and women have created a vibrant community who is helping each other develop and grow professionally.
The full list of speakers and sessions can be viewed on our conference website. Stay tuned for our videos on speakers and participant impressions of the Code To Change event!
This program is an initiative of ChunriChoupaal, whose mission is economic empowerment of women through digital technology. The Code to Change e-skills bootcamp and conference is the main event of our campaign 'Work To Equality' aimed at providing training and networking opportunities to ensure diversity in the workforce, particularly in the ICT industry. Our Code to Change program is powered by our vibrant community of female IT professionals and allies at "Amsterdam Women in Technology". The event was sponsored by Marktplaats, Microsoft, GitHub, RIPENCC and Meet Berlage.