e-Skills bootcamp and conference 2015, 15-17th October Amsterdam, The Netherlands
What is the Code To Change Program?
The Code to Change program is an extensive 5-month program aimed at women who are looking for new challenges and want to kick-start a career in ICT. It consists of three phases. The coding bootcamp phase, the mentoring phase and work experience phase. In the course of our work we are often asked the following question by women pursuing personal growth and professional change: "Where do I start?" The Code to Change program answers that question and paves the way for a smooth start in a new career!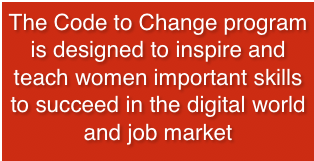 The Digital Revolution has changed the way we think, live and work. The world has reached a point where digital literacy is fundamental for finding a job. In the future, ninety percent of jobs will demand digital skills.
The Digital Agenda for Europe estimates that by 2020 there will be a skills deficit that equates almost a million unfilled jobs.
The Code to Change program is designed to inspire and teach women important skills to succeed in the digital world and job market. Despite high unemployment across Europe, the huge e-skills gap is a barrier to existing roles in the sector. In order to boost competitiveness, productivity and employability of the workforce, we need to bridge the e-skills gap to ensure innovation and growth by updating the skills of the existing talent pool.
The Code to Change program is designed to inspire and teach women important skills to succeed in the digital world and job market. According to the Council of European Professional Informatics Society, only 20 percent of the 2.7 million people working in the ICT sector are women. The percentage is even lower in the IT sector. Women also disproportionally leave the ICT sector as they progress in their careers. The lack of female participation in technology-related studies exacerbates a pre-existing problem with labour supply shortages. Multiple studies have shown that more gender-balanced and diverse teams perform better. Given these disparities, urgent measures need to be taken to ensure economic empowerment of women and consequently, an inclusive, diversified and welcoming work environment.
The Code To Change program aims to bridge the skills gap by making available effective education and mentoring through our dedicated community of IT professionals who are passionate about passing on their expertise.
Interested in applying for our coding bootcamp?

Interested in partnering with us for workshops, lighting talks or collaboration opportunities? Please feel free to send us an email at info(at)chunrichoupaal(dot)org
The Code to Change program will take place in Amsterdam during European Code Week 2015.